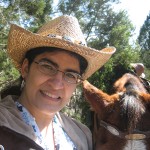 Ye gods, I'm sore. I wasn't feeling it last night, or even this morning; the aches and pains kinda creep up on you and yell "psych!"
Still, it was so very worth it. I spent an absolutely gorgeous morning riding horseback through a Texas Hill Country ranch with my best friend Valerie and I can't wait to do it again.
Valerie and I have known each other since we were in junior high school – I think that's been about twenty-eight years now (my mother calls Valerie her "other daughter") – and in all the time I've known her, Val's always been an avid horse fan. From collecting Beyer horse models, to reading every fiction and non-fiction book about horses to her jacket full of patches of the different breeds, horses have always been a passion for her. She even manged to live her dream and own several horses, including seeing one through a pregnancy and then raising the foal to a healthy, lively adult mare.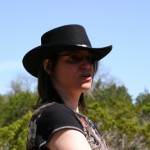 When she was a horse owner, she took me out riding a handful of times and I learned how to (mostly) handle myself (western-style) on a horse. I even did a trailride in Cuero, Texas back in 1999. But since her Raindancer passed away Valerie hasn't been around horses much. Cloudjumper (Raindancer's foal) has a new home as do many of the other horses I remember Val fostering for brief periods of time.
So, naturally, it had been a while since she'd been riding and she was really missing it. That's when she called me up and invited me to ride with her at the Bar M Ranch in Bandera, Texas:
Located just 55 miles northwest of San Antonio in the midst of the majestic Texas Hill Country, the "Bar M" ranch is situated on a hilltop plateau offering 360 degree panoramic views of the neighboring Bandera countryside. Just 2 and 1/2 miles from the historic town of Bandera, we're only minutes away from the festivities of the "Cowboy Capital of the World," where rodeos and horses are a way of life.

The "Bar M" is comprised of scenic mountain views and has over one mile of wooded trails along the picturesque San Julian creek. The ranch provides a safe haven for an abundance of wildlife including whitetail deer, the exotic axis deer and blackbuck antelope, Russian boar hogs, mountain lions, bobcats, wild turkey, the elusive fox, the adorable armadillo, ringtails, coyotes, jack rabbits and, of course, the curious raccoons.
The Bar M offers private and personalized horseback rides tailored to different experience levels. We chose a three hour morning ride along prepared trails through the ranch, up and over some of the hills and through different kinds of terrain.
It was early enough to be a bit nippy at first. In fact, the drive into the ranch from Bandera was so foggy we weren't sure we'd find the ranch entrance! Still, the fog in the hills was breathtakingly beautiful and it burned off quickly to become a beautifully sunny day.
Our wrangler started by talking to us about the horses, and the specific personalities of the ones we were about to ride – Gus and Reny: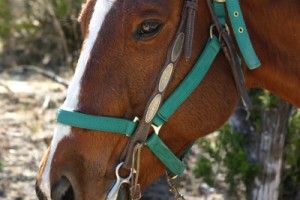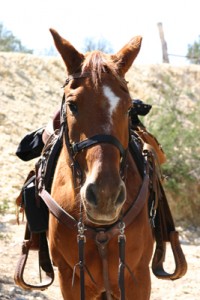 She asked about our backgrounds and experience. Since I was not that terribly experienced she took some time to show us how the bit worked, how to approach the horse, mount, dismount, sit on the saddle, handle the reins and guide the horse. None of it was unfamiliar, but the refresher was much appreciated and I did learn several new things.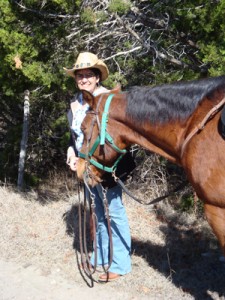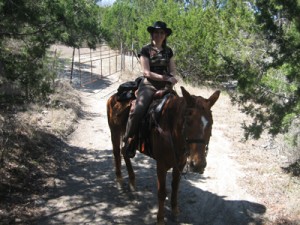 After the lesson we gave the horses some treats and pats, then got our gear, mounted up and got going. The two ranch dogs, Chula and Paris, joined us for the whole trip, trotting alongside, charging up the hillside and splashing in the water. They were pretty tuckered out when it was all over.
I was carrying along a Canon Rebel in a backpack that I only pulled out when we were stopped and off the horses. Next time, I might leave the backpack behind and simply take two lenses and the camera body in the saddlebags. The smaller Canon Elf was a lot easier to whip out with one hand and take pictures of the scenery, myself and Valerie behind me.
We rode single file, in a specific order – horses do have a pecking order that has to be respected or there can be biting and kicking. Our wrangler reminded us that a little space between riders is also a good idea, especially since Gus was a bit of a prankster and liked to nip the butt of the horse in front of him if he could.
The property itself is a good example of every kind of terrain you might see in Central Texas, from flat meadows with grazing cattle and deer, to rocky hillside slopes covered in oak, mesquite and cedar. Our wrangler pointed out the creek, which unfortunately was pretty dry due to the severe drought we've had. Still, a few spots had some water, and she pointed out her "redneck jacuzzi" – a spot on the creek where water would normally rush over the rocks into a small pool before bubbling out, very much like parts of Perdenales State Park.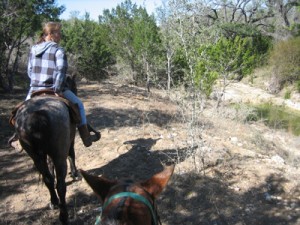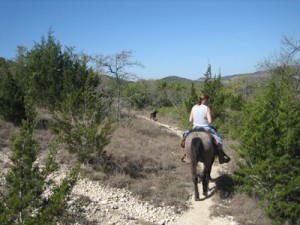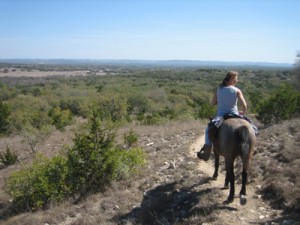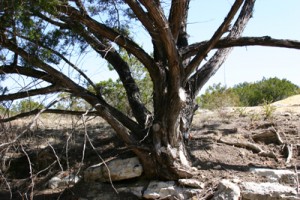 At one point in the ride the sounds our horses hooves made changed dramatically, as if the ground they were walking on was hollow. In fact, it was! We were riding over just one of the many caves on the property and the sound was especially hollow sounding because the caves were drier than usual. One cave, high on the hill, was used by the turn-of-the-century owner to store the bootleg hooch that he made with his own still. I found all the cave info especially fascinating because my sister-in-law, Jessica, is now a cave biologist who was extremely active in Texas caving when she lived here. The ranch also has evidence of its geologic past, when the Gulf of Mexico covered this part of the state.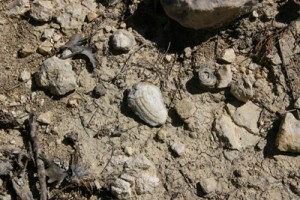 Other historical tidbits included evidence of Native American use from long ago, from the arrowheads found on the property, to evidence of encampments, use of the caves, a pecan grove that was obviously planted, rather than natural and one oak burl carved into a bison head. The original homestead, dating back to the late 1800's is still on the property as were two hand dug wells that dated back about a hundred years.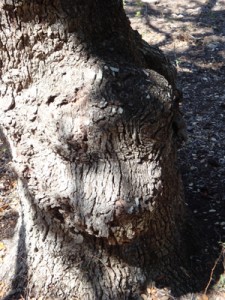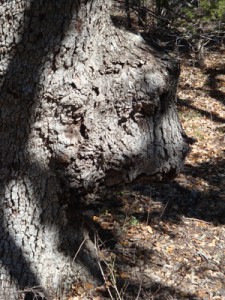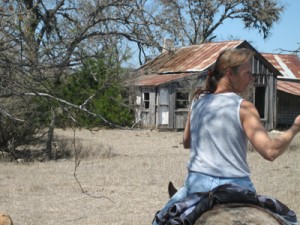 We saw cattle, hawks and antelope, and our wrangler pointed out a watering hole that she'd spotted a black cougar (either a black panther up from Mexico or maybe a jaguarundi) drinking from not too long ago.
In the end it seemed like the time just flew by. This ride was so very different from the trail ride I'd been on in Cuero with its hundreds of people and horses over wide open spaces, stopping every twenty minutes for a break to drink and socialize. This ride was a level of magnitude nicer, just the three of us women riding through a much more interesting countryside, at our own pace on a peaceful morning. When I wanted to stop and take a picture we could, and we could just keep going if no one wanted a break.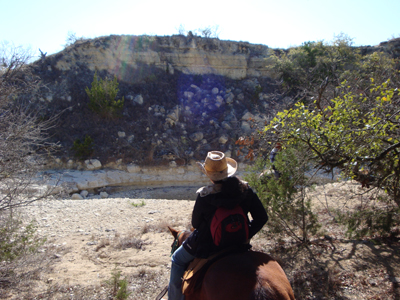 I enjoyed it so very much. I know both Valerie and I will be back there, perhaps several times.