Solving the Mystery of the Missing Vienetta
Several years ago, I had a frozen ice cream dessert that I simply can't forget. It was a lovely layering of super-thin chocolate and soft vanilla ice cream, luscious and decadent. Surprisingly, I didn't encounter this memorable dessert at a fancy restaurant; it was readily available at my local grocery store.
Then all of a sudden and without warning, it vanished. My local grocery store no longer carried it and neither I nor my husband could find it at any other store. We tried. Man, we tried. The problem was (or so I thought) that I simply couldn't remember the name of the dessert. Without that bit of information, it was exceedingly difficult to explain what I was looking for to anyone else. After a year or so I gave up. But every so often, and for the next several years, I would check the frozen section hoping to spot something that looked like what I remembered.
Then I happened to mention it in conversation with my folks around the dinner table on New Year's Eve. My mom instantly knew what I was talking about. She'd loved the dessert too and had also noticed it's sudden disappearance. She thought about it carefully and then said, "It was a Vienna-something". That was enough for my husband to do a Google search and discover the name that had eluded us for years:
Breyers Vienetta.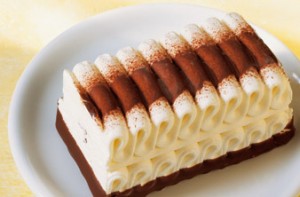 Heaven on earth.
Once I'd had my memory jogged, it was a cinch to find more information online. I still remember this commercial for Vienetta:
Apparently Vienetta is still available in Europe, distributed by Unilever, and quite popular. But for some strange reason still unknown to me, it was discontinued in the United States, despite the fact that it seems I was not the only person who still dreams of this dessert. At least I am not alone in wishing this was still available in the U.S. I would not be surprised if it was all due to some kind of legal problem regarding a U.S. patent or some such.
At least the production video is still available on YouTube. It makes me wonder how difficult it would be to create something like this at home.
Ah, Vienetta. How I miss thee.
Update (April 20, 2010):
This has been, hands-down, one of the most popular blog posts I've ever written (and that includes thousands of entries on previous blogs over the last decade). Obviously I'm in good company – there's a LOT of you out there that miss this lovely dessert.

What could be more maddening than remembering this, craving it and discovering it had been discontinued? Finding out that it was brought back, for a limited time and that I missed it.
Yup, that's right. It was back. Well …  sort of. And now it's gone again.
Apparently Unilever brought out a "Viennetta" branded dessert for the 2008/2009 winter holidays in the United States. Unfortunately (or fortunately?) the product was back off the shelves in February of 2009, which explains why my searches for it have been fruitless (ice creamless?) since people started reporting seeing it in January of 2009.
Why fortunately? It wasn't exactly the same product we remember. The original was made with Breyer's ice cream and this temporary holiday fix wasn't even made with real ice cream. Ingredients were: "nonfat milk, sugars, whey, cocoa, propylene glycol monoesters, cellulose gels, mono and diglycerides, locust bean gum, polysorbate 80, guar gum, natural flavor and carrageenan."
Oh why do they vex us so? *sigh* At least we've got the memories. Right?
Update (March 15, 2012):
Thank you all for your comments! For those of you who haven't read through them all, here's some useful information:
Thank you to "Patrick" who apparently lives in Europe where the dessert is still available:
I just read this post and I'm sorry to see you guys have to miss out on this wonderful desert.

If it is at all helpful, i have some contact information with the company itself, you could try and see if you can get some pamphlets or information to bring to your local supermarkets?

Unilever N.V.
Corporate Centre
Visitingadres: Weena 455 – 3013 AL Rotterdam The Netherlands
Postadres: Postbus 760 – 3000 DK Rotterdam The Netherlands
Tel.: +3110 – 217 40 00
Fax: +3110 – 217 47 98
Internet: http://www.unilever.com
Also a big thank you to "Desdemona" who points out:
Please, there's a petition to bring it back! Sign it and tell everyone you know to sign it, too.
[Petition Online is no longer available. – FR 08/26/2015]
"Rick" from Palo Alto, CA adds:
For those jonesing for the heroin that is Vienetta…I present to you your methadone: Voileta.

It's a Vienetta knock off that isn't exactly the same, but contains the same elements. The crispy chocolate layers are fewer and thicker (most likely because Dadu decided to add peanuts) and the Violeta cake is just not as pretty as a Vienetta…But I'm sure the differences are all about circumventing copyrights.

Best of all, I found this at my local Whole Foods. If your local Whole Foods doesn't carry Violeta, you can always ask since Dadu is already part of their supply chain.

Correction: The crispy layers on the Violeta has hazelnut pieces…Not peanuts.

And yes, Violeta is delicious and has SOME of the same textural creamy/crispy mouth-feel as Vienetta…But Vienetta was much more subtle with the thinner crispy chocolate layers.
[NOTE: I had to briefly close comments on all my blog posts because of a flood of spam. I'll reopen it at soon as I've got that all under control. FR 01/27/2015]
[Comments are re-opened! FR 08/26/2015]