I am officially a multi-wheel owner as I recently became the (possibly permanent?) foster mother to another spinning wheel, a Kromski Polonaise. I still want to get an antique Toika wheel like my Finnish great-grandmother used to have, and an antique Great Wheel. I've also got a 36 inch rigid heddle tabletop loom, and I'd like a Leclerc loom. So, you know, I'm officially nuts. I really need to clean out and then do up the shed out back and make it into my own little tea house so I have somewhere to put them all.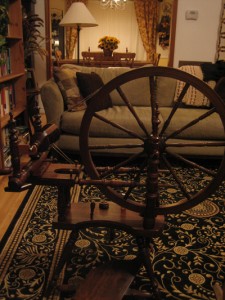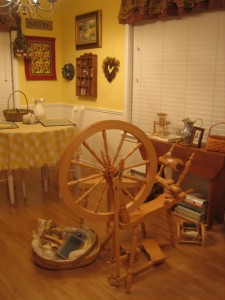 My very first spinning wheel was the Kromski Symphony, a present to myself in 2004. I chose the Symphony because it looked the closest to the old antique Finnish spinning wheels that I so wanted. It's a gorgeous device, all clear lacquered wood, and an absolute joy to use. It's also a slightly "fast" wheel, meaning that it's very easy to get it to spin fast, which can be a bit difficult for the beginner. So far I've stuck with using the largest whorl and treadling slowly.
The Polonaise is a single treadle wheel and runs a little slower. Even so, it took me a while to get used to because the flywheel can be adjusted at an angle. I didn't realize this at first and had a really had time keeping it spinning. Once I'd figured it out I was able to get the flywheel inline with the mother-of-all and now it spins smoothly.
Spinning wheel terminology is kind of funny. The various parts of a spinning wheel have specific names, some of them quite … suggestive. There's the obvious kinds of names, "flywheel", "bobbin", "whorl" and "treadle". But then there's also the "footmen", the "maidens", the "mother-of-all" and the "orifice". Let no one ever tell you that a bunch of old crones don't have just as dirty minds as a bunch of old men.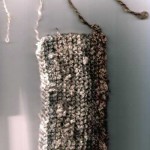 I taught myself how to spin, using a book and the video that came with my wheel. I started with some roving from an abandoned craft kit that I had (a dream-catcher I'd never completed) and later some prepared roving that I bought on eBay. By February of 2005 I'd spun up enough – about 4 ounces of natural wool roving – to knit into a small rectangle. First I spun it, then I plied it into a 3-ply yarn using a technique called Navajo-Plying as described on The Joy of Handspinning web site. Finally I knitted a small sampler rectangle.


As I mentioned, I used the wool from an old dream-catcher kit that was falling apart for my first attempt at spinning. I hadn't finished the dream-catcher and the bit of wool had gotten dirty enough that I was going to toss the whole thing out. Luckily the wool was essentially a coil of prepared roving – perfect for my first try on the spinning wheel. As you can see, I spun really fine and thin in some areas, very thick and fluffy in others and the whole thing is full of lumps and bumps.
The next attempt was with a batch of Corriedale wool roving generously donated by owner Judith and The Lovely Ladies of Sithean at  Sithean Fiber and Gifts. I'd heard that Corriedale wool was an easy fiber to spin for beginners and, now that I've tried it, I heartily agree. By this time I was spinning with ease, even though I'd as of yet had no hands-on instruction from any other experienced spinner. It was neat to feel the natural wool slip through my fingers into the spindle in a nice, neat single. The result was a much finer and much more even single ply yarn.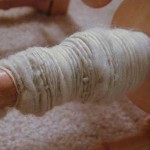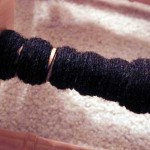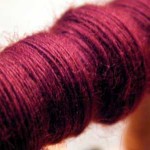 I also did a nice little pile of nutmeg dyed Corriedale. I tried ply this one into a two ply yarn, using another technique that involves two bobbins of yarn coming off of a lazy kate, but didn't watch to make sure than my ply twist was in the opposite direction as the spin twist. I ended up with the kinkiest yarn you've ever seen.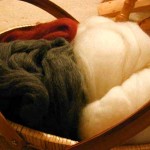 Since then I've learned already that one cannot have too much roving. I've got everything from several different kinds (different breeds of sheep) of wool roving, camel, buffalo, llama and alpaca, Mongolian yak, silk, and various plant fiber rovings, including flax, corn and bamboo. I even got to visit with a really nice lady in Boerne, Texas who owned a lot of alpaca and llama, and came away with lots of raw wool to clean, card and then spin. I also learned that unprotected roving is like crack to kitties – utterly irresistible to pounce on – so it all rests safely inside an antique toy rest.


Want more?
Have a look at the pictures I took at Kid N' Ewe – a fiber festival in Boerne, Texas, last November.
Here's a cool video of a woman explaining how to spin on a Great Wheel. It's such a graceful process – almost like learning a dance – since you are standing and moving back and forth in front of the wheel instead of remaining seated.
Here's another wonderful video: Amanda shows you how to spin cotton sliver on a great wheel. (Embedding is disabled on this one, but it's well worth going over to YouTube for a look-see.) I swear I could just watch and listen to this woman all day. I think of her as the Bob Ross of spinning.

Here's a video of a more modern-style wheel:
And here's one that explains how the spinning wheel works:
And finally, here's a video of Andy Pankso's stunninly beautiful all-glass peice of art. Yes, that's a fully functioning spinning wheel made of hand blown glass. Be still my heart: