After our 51st day of temperatures over 100 degrees here where I live, you'd think that all I'd be drinking would be iced tea.
Not so! Walk into any building around here and the air-conditioning is running full blast. It's like a Scandinavian sauna experience in reverse all day. First you freeze your tush off in the air-conditioned indoors, then you walk outside into the blessed warmth and finally take a seat in your sauna-like car. To complete the experience simply run back indoors into the chill – it's like plunging into a frozen lake.
So yes, it may seem strange to review a lovely spiced hot tea – one that might be better suited for sipping around a roaring fire and served by Sven The Alpine Ski Instructor (or Svetlana, depending on your preferences)  – in the dog days of summer but hey, it's freakin' freezing in here!
Coco Cardamom Tango (No. 935) is yet another one from SpecialTeas.com:
Full-leaf black tea with a decadent blend of cocoa bits, cardamom pods and cinnamon. Smooth and delicious.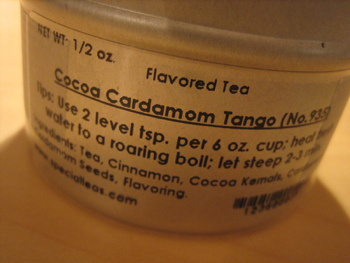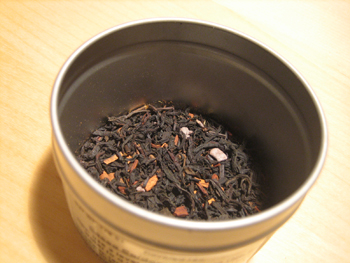 I followed the recommendations for brewing, pouring fresh boiling water over 3 heaping teaspoons in my 3 cup teapot and letting it steep for 2 and a half minutes.
The resulting tea had a lovely smooth and medium-to-full bodied feel with absolutely no bitterness at all. The spices added a sort of "warming" feel it it all and oh-my-gosh it smells heavenly. It tasted a bit like drinking a gingerbread cookie.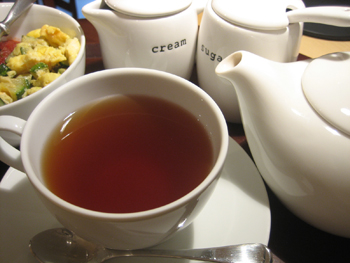 I tried this one with milk too but I think it does fine on its own. In fact, I think it's better without the milk. I didn't try a second brewing with this one but I'd suspect it'd do just fine; the black tea seems to be of good enough quality to stand up to a second brew and the spices are hardy enough to impart their flavor one more time.
Final judgement? Heartily recommended.