I found myself in Austin's North Lamar Central Market a few days ago, and as always, I had to peek at the tea aisle. This particular store has a tea bar where you can bag your own amount of some popular brands, and there were several half ounce samples of each ready to go. I noticed that, this time, at least three of them were rose-infused teas. What a perfect gift idea for Valentine's Day for any tea lover! I grabbed a sample of all three blends and tried them the very next day.
Since I bought samples without any suggestions as to brewing and steeping times, I chose to use 2 level teaspoons of each for my little two-cup teapot and a brew time of 2.5 minutes with fresh boiling water.
First up was Rishi's White Tea Rose Mélange: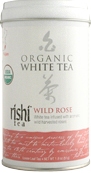 Rishi describes their tea thusly:
A blend of jasmine and wild rose scented white teas infused with rejuvenating peppermint and calming lavender. It's floral with a fresh minty finish. (Organic roses, Organic white tea, Organic green tea, Organic peppermint, Organic lavender and Organic jasmine flowers.)
I should have looked this one up earlier, because they also suggest using 1 tablespoon per 8 ounces of water heated to 190°F and steeping for 4 minutes. While I didn't follow these directions, I was still delighted with the results.
The scent was heavenly, but not overpowering. The taste was mild an pleasant with none of the bitter or sour than can sometimes come with a less-than-perfect green tea. This medium-bodied tea brought visions of Valentines day while I was drinking it. Highly recommended.
Next up was Serendipitea's Really Goethe: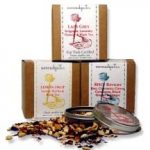 The description on the Serendipitea site:

Like a celestial wind from the blue heavens, combining the jasmine, myrtle & rose, in a base of green tea to make a sweet aromatic cup. Robust foundation ~ divine fragrance. (Rose Buds & Petals, Jasmine (Petals), Laurel, Pouchong, Chinese Green Tea, Lemon Myrtle, Gunpowder.)

Again, the website for this tea had a recommended preparation (one level teaspoon per cup, water heated to just before boiling and a steep time of three minutes).
I found a review of this particular blend on the The NIBBLE Gourmet Food Magazine site:
Green tea with a gorgeous blend of jasmine petals, laurel, lemon myrtle and rose buds and petals, this tea could be mistaken for potpourri (photo at right). But we'd rather brew it for its delicately sweet flavors and floral aroma. Inspired by a poem by Johann van Goethe (pronounced ger-te), the great 18th-century German poet who made important discoveries in connection with plant life, this fragrant tea is romantic as well as beautiful and tasty.
I have to agree that the tea leaves make a wonderful potpourri. The scent is heavenly, but not overly perfumed like some potpourris can be. But as a tea? Oy. Mine brewed up a lovely medium-dark color but with a strong rather department-store-perfume-counter scent that I found unappealing. And the taste? Well, the taste in addition to the scent made me think of furniture polish. I definitely didn't like this one. In fact, I couldn't even finish the cup; I poured it back into the teapot.
Finally I tried Teance's Rose Red Black Tea:
Teance's description of this tea is rather spare: "Rose Red Black Tea, Higher Caffeine, Guangdong, China, Steepings: 5. "The fragrance and sweetness of rose petals in a Chinese Red Tea base."
I may have been lucky to get any of this tea, as it's out of stock on the Teance site and I was unable to find it anywhere else online (at the time I wrote this review).
This cup on one turned out very dark, and I fully expected a rather bitter taste. I was pleasantly surprised. I couldn't detect much in the way of perfume (but by this time Central Texas was under the assault of some serious cedar pollen and I was probably not smelling anything anymore). The taste was a typical black tea but with a floral finish and no bitter tannins. It certainly wasn't as fabulous as the Rishi tea, but definitely drinkable. I might try this one again, but with milk.
In the end, it was the Rishi blend that blew me away. Lovely, tasty and romantic looking to boot. I'd reccomend the Rishi's White Tea Rose Mélange to anyone looking for a tea for Valentine's Day.
And if you're looking to create your own rose-infused tea blend, you might might consider simply adding some organic rose buds to your favorite tea. The English Tea Store carries organic rosebuds, perfect for adding to your own tea.