Not feeling terribly adventurous today, I pulled out another Darjeeling that I bought from SpecialTeas. (Yes, yes – I have a LOT of teas from this particular online store.) This time it was No. 118, aka "Tukdah FTGFOP-1 First Flush", a nice dependable tea that I've tried many times before.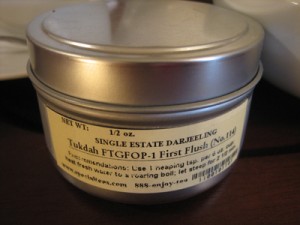 SpecialTeas describes it as such:
Very tippy dry leaf with a wonderful aroma! This top grade first flush is lighter in cup color than our 105 Puttabong, but very complex with a peach blossom fragrance that carries through and lingers on the palate. Enjoy this tea when you have time to savor each and every sip.
I used the recommended amount, putting 2 level teaspoons into my tiny teapot. I wasn't paying attention to my electric kettle however, and let it come to a roaring boil. Not particularly picky today, I decided to just go with it rather than following the recommendation to use steaming briskly (195ºF). I  let the tea steep for two-and-a-half minutes.
The color of the steeped tea was a lovely amber: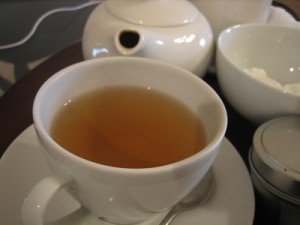 And as I suspected, this tea did not disappoint. It's a light-to-medium bodied, smooth and fruity tasting tea. I'd agree with the description on this one, as it reminds me just slightly of Republic of Tea's Ginger Peach. I'd go so far as to describe this tea as "cuddly". It was just the thing I needed to get started on a grey morning such as this one. This is a highly recommended, dependable tea.
Now, my umpteeth attempt at making poached eggs? *eyes resulting blob* Not so cuddly. *sigh*