I mention Star Trek in one of my posts and what doth the tea-drinking universe bequeath upon my little nerdy heart? A mug from Wil Wheaton with the (in)famous Captain Picard quote on it in big bold lettering: "Tea, Earl Grey. Hot."
See? See!?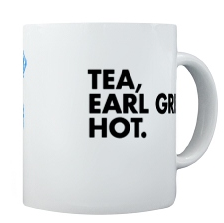 (There's even a Flickr Group Pool for photos of the mug in the wild.)
Who is Wil Wheaton? Peasant! Wheaton is a writer with a talent for heartwarming stories of daily life that we can all relate to, an engaging Twtiterficiando, and an actor well known for – among other roles – his part as Wesley Crusher in Star Trek: The Next Generation. For those not familiar with Wheaton's current success as writer I recommend reading Just a Geek – a memoir that will illuminate his trajectory from actor to writer and child to adult – as well as Sunken Treasure, a collection of gems from his almost decade-long stint of blogging. The mug is part of Wheaton's promotion of his newest book, Memories of the Future.
Yes, yes, I know – I've said before that I prefer teacups to mugs.
And I do, if truth be told. It's not just that I associate mugs with coffee, it's also that teacups do seem to have a perfect balance between the amount of tea in the cup and the amount of said tea that is exposed to the atmosphere. Whether this really makes any difference at all to the tea drinking expereince or, more importantly, to the taste, is probably a matter for scientists. Or Mythbusters. Or somebody other than me. Regardless of actual facts, I've always felt that tea just tastes better in a tea cup. Besides which, the volume in a mug is usually off for estimating the cuppage (snicker) from my teapots. And yes, I just made that word up.
But never mind all that! This blog is about sexy tea things and the irrational desire to possess all things tea by a cat loving lady with too many teapots. So I eat my teacup words and declare that this mug is freakin' hot, baby, and I must get my grubby little paws on one. Seriously! This mug looks like it could beat the pants off of Royal Albert in a cage match. (Don't tell my mother that because I'm hoping to inherit her entire Royal Albert Old Country Roses collection someday.)
Ooh. I can even brew a cup of Serenitea: Kaylee for the mug and be in AU teanerdvana. Or is that going too far?