Wow. Add this sexy new samovar to the list of lovelies I'd like to try: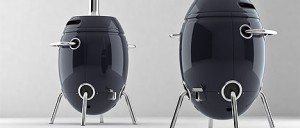 According to Latest Trends in Home Appliances:
Tea fans will appreciate the inner workings and the history behind SAM, Russia's Man Works Design's samovar makeover. Traditional samovars are ornate brass urn-shaped containers that heat water from the inside out – solid fuel in the middle, water in the surrounding container. SAM functions the same way but eschews the 18th century look in favor of a distinctly modern design.