Tweeee!
Even the name makes me smile.
Joanne Linder emailed me about her Etsy shop, Vintage Twee, for "an enchantingly English range of hand crafted décor for the loveliest tea party, wedding or shower" and I had to have a peek. Oh, the lovelies! See? See? See?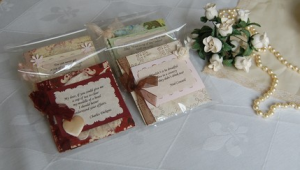 You manly tea-drinking men may find this all a little too frilly for your tastes but HEY, you already have WOLVERINE so jut leave us ladies some leeway with the pretties, 'kay?
Seriously though, I love the fact that these are all hand-made with such a romantic Victorian flair. It's homey, cozy, and couldn't you see them paired with this heart-shaped tea set from Wagokoro-Ya?