It's been so long since I acquired this tea, I don't even remember where I found it anymore. Although, to be honest, I know I bought it just for the lovely printed wooden box it came in.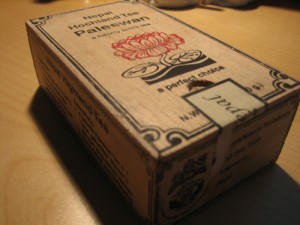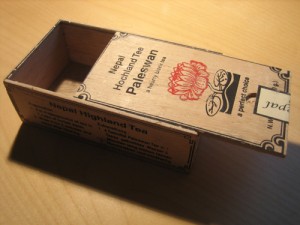 The pamphlet inside reads, "Himalayan Highland Tea Company" … out of Lewisville Texas. Regardless of the packaging and unconfirmed origins, it turns out to be a lovely tea.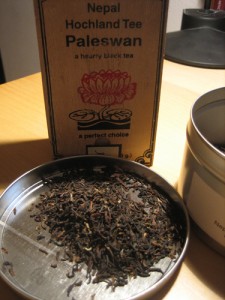 Paleswan is a hearty black tea grown in far eastern Nepal. The included pamphlet describes it as "spicy, aromatic and full bodied without a bitter taste". Interestingly enough, I thought the dried leaves looked a little "paler" than the darjeelings and assams I've been drinking lately and there was an abundance of golden color in the mix.
The box suggests steeping four teaspoons in seven cups of boiling water for five minutes, but I decided to go with my preference for most black teas and steeped only three teaspoons for three minutes in water I'd brought to a roiling boil.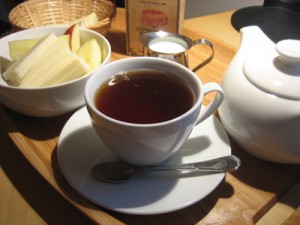 It brewed up with a lovely cherry wood color, a deep reddish-brown that I makes me want to use it dye some wool for a sweater. The taste is as lovely as the color: smooth and medium-to-full bodied, with a sort of caramel-chocolate taste that I'm having a hard time really putting my finger on. It's not really as spicy as I would have expected. (Bearing in mind that this tea has sat in my cabinet for probably ten years now, I was expecting clove or cardamom-type spicy.) The after-taste does remind me a bit of nutmeg. There's a touch of bitter in that after-taste but nothing unpleasant. Malai chiya dinuhos. (Nepali for "Please give me tea".)
A bit of Google research turned up one possibility for purchasing a similar tea: Highland Tea. Even the box looks similar. (My little pamphlet says the artwork on my tiny wooden tea chest  is an illustration from The Complete Guide to Ayurveda by Gopi Warrier & Deepika Gunawan, M.D. copyright Element Books Limited 1997.) Unfortunately I could find little else on "paleswan" type teas other than the distinct impression that teas from Nepal are increasingly grown through sustainable agriculture, via cooperative farms and without pesticides. It's definitely worth investigating a little more.
नमस्ते (Namaste.)