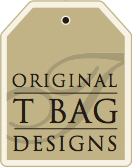 Do you throw away that used teabag as soon as you're done with it? Not the artisans in a small settlement located in Mandela Park, just outside of Cape Town in South Africa. Instead, they've turned used teabags into works of art by turning the bags into tiny canvases.
First they dry the teabags in the sun, then empty them of leaves and iron them before painstakingly painting them in stunning African designs.

From the website:
Original TBag Designs is a collective of artists who live in an informal settlement in Hout Bay, South Africa. With recycled tea bags as their canvases they are painting themselves out of poverty.

[…]

The group gathers together to assemble the finished products: greeting cards, notepads, journals, ornaments, candles, coasters, trinket boxes, and tea light holders. They'll make special designs by request, but ordinarily they just paint "what is in our heads".

One of the artisans, Nomsa, recently earned enough money from painting tea bags to move from an inadequate shack to a solid new house. Nomsa said, "The most wonderful thing in the world is hearing the rain on the roof and knowing that my children are warm and dry."

[…]

The original group of ladies have become skilled and talented artists. T-Bags now employs 15 permanent staff and a number of additional employees work part-time. In addition, 10 people with disabilities from within the community are employed to assist with sanding products. Their workshop is a tourist destination and they sell their products at the workshop, at Cape Town's Waterfront Market, and in Europe and the United States.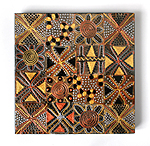 The selection of items includes everything from magnets, coasters and bookmarks, to wine bags, trays and mirrors.