The full name of this tea is actually "Arya Estate Early F1 (EX-1) Darjeeling FTGFOP1 (Organic)" imported by Upton Tea. I don't know whether I should either curtsy or wait for the judge to award "Best in Breed".
A sample of this lovely tea was a gift from a friend I met through my spinning wheel group. We'd talk tea, science fiction, wool fibers, writing, acting, farming, podcasting and anything else you can think of. She and her herd of goats, many artisanal cheeses and entirely too much raw wool recently moved to Arizona to be with her new husband, a rancher and farmer.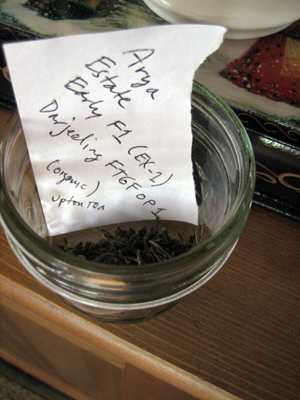 I treated this tea like a typical darjeeling, bringing my water to a full rolling boil, then steeping it for about three and a half minutes.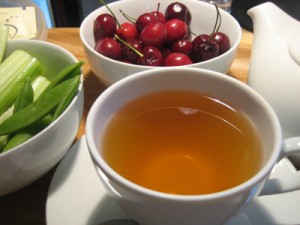 The brewed tea was a beautiful golden color with a wonderfully mild and smooth, slightly sweet (even without any sweetener) taste. There was nothing too over powering and no aftertaste to speak of. The taste might be a little too mild for some darjeeling lovers but I found this tea went well with everything I had for my afternoon lunch, including a spicy deli meat, crispy raw vegetables and sweet bing cherries and artisanal goat cheese.
Not bad, and definitely a tea to recommend.