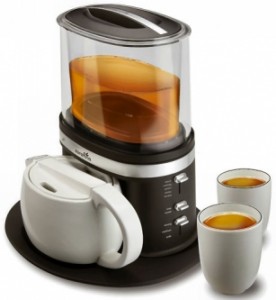 I first saw the Zarafina tea maker at a local outlet of Le Gourmet Chef. The $149 price tag shooed me away, even as I lusted after the lovely design.
According to the box, this automatic tea maker will steep both loose and bagged teas, up to 16 ounces at a time. There are built-in settings for black, oolong, green, white or herbal teas, so that you get the correct steep time (and water temperature) for each kind of tea. You can also adjust it  to your strength (mild to strong) preference.
Mad Pots of Tea has an interesting review:
But I wanted to say something more to my readers…about WHY I use the Zarafina Tea Maker Suite, and HOW it has changed my tea-making habits. To do this, I had to live with this machine for months, which furthered the delay in writing this review. So, how has Zarafina influenced the Tea Drinking Habits of Madam Potts?
Check out Madam Potts' entry to find out exactly how it changed her habits. Also check out Kitchen Contraption's, GongFu Girl's and E. M. Quardokus' excellent reviews.
The tea maker is available on Amazon.com right now for $89.99 and free shipping. That's enough to make me consider getting one for my new home office.